The world suffered another ransomware nightmare, with pharmaceutical companies, Chernobyl radiation detection systems, the Kiev metro, an airport and banks all affected. One U.S. hospital also appears to be a victim. Petya has some extra powers that security experts say make it deadlier than WannaCry. While EternalBlue has allowed it to spread via a weakness in Windows' SMB, it has other tools for moving at speed across networks. Perhaps most crucially, thanks to all these added features, the new strain will infect even patched Windows PCs, including those with Windows 10. How can you protect the data of your company?
WHAT DOES WANNACRY AND SIMILAR RANSOMWARE DO? HOW DOES IT DO THAT?
It encrypts files on servers, workstations and asks for ransome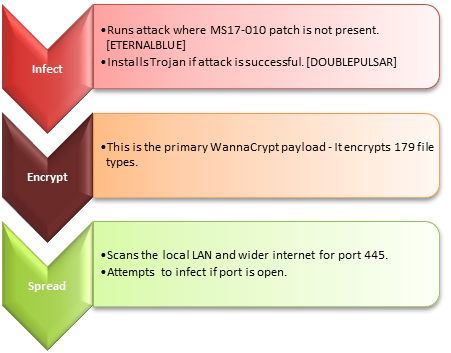 WHAT DOES CONTENTACCESS FILE ARCHIVE DO?
contentACCESS File Archive is archiving files from file server, shares and working stations. It is mostly intended to archive corporate documents – office documents, pdfs, pictures, video and audio files, report files. These files are the most valuable digital asset of the company.
The archive is read-only so nobody can tamper with that, but the files are still accessible from the stub which the archive has created. In case anything is deleted the files can be restored by a mouse click into its place of origin or somewhere else. In case of any updates in the files a new version is created but all versions are accessible.
The archived files are accessible even the file share is corrupted, unavailable or decommissioned. contentACCESS is integrated into client workstations via local virtual disk drive. Portal, Outlook or even mobile access is possible. It is easy to find the files as you have the same hierarchical view on the folder structure as on the file server, and you can also search for content using the built in full-text indexing and searching capabilities. Read more…
HOW CAN CONTENTACCESS PROTECT YOU FROM WANNACRY?
Using contentACCESS archive the corporate files are archived in a read only compliant form:
– The files can be archived regularly.
– In case the file changes, there is new version created.
Assuming Wannacry encrypts the source files server, shares, workstations:
– In case of stubbing it simply encrypts the stubs. Who cares?! They can be simply restored from the archive.
– In case it encrypts file which were archived. You have a solution for this, too! The files can be simply restored from the archive. Users have an instant access to the archive even from their Outlook, Browsers, Virtual drives and Mobile devices.
Wannacry cannot access nor encrypt the archived files!
contentACCESS provides you an instant access to your files even you have been attacked by ransomware. contentACCESS protects you from future attacks winning the battle against ransomware long before it started.
What are you waiting for? Contact us now!