contentACCESS mailApp: Archiving at your Fingertips
Outlook integration with instant access to your company data
Manually archive and restore your Email communications or files
Efficiently search through or browse your archived data from all sources including SharePoint and Teams - directly in Outlook
Available on all Outlook platforms - Windows, Mac, mobile and browser
Enhanced sharing options for your archive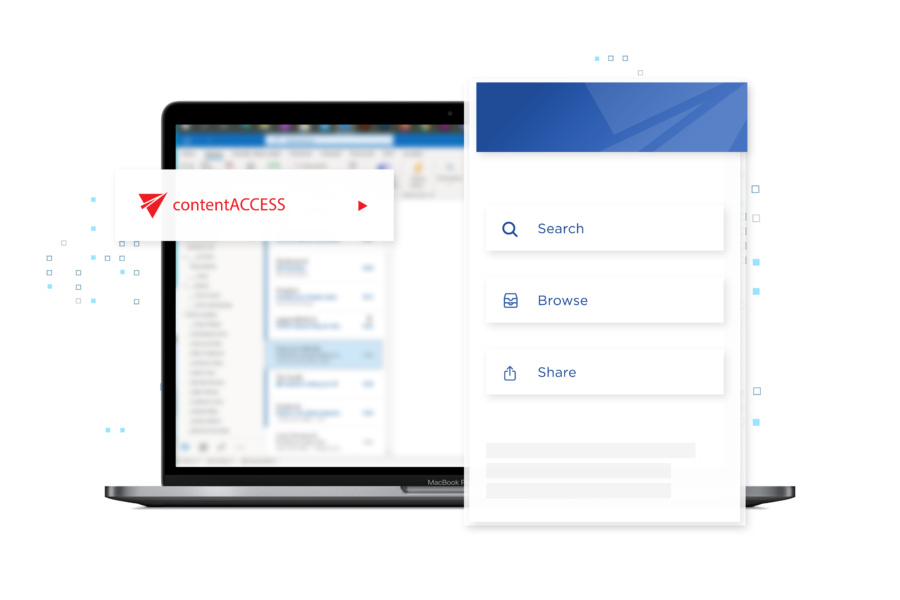 What is contentACCESS mailApp?
Do you need to exercise complete control over your archives? Wait no longer. Take your archiving in hand with contentACCESS mailApp. Our mailApp is an intelligent extension of the contentACCESS archive and backup suite, giving users the ability to more thoroughly take control over their archive. Access or restore your data without wasting time on waiting for your administrator. Or take advantage of mailApp's Compose Mode to search or browse your existing archive and share archived data.
Great advantages of contentACCESS mailApp
Bring your workplace efficiency to the next level with the best archive-into-Outlook integration available. Take advantage of contentACCESS mailApp to manually select emails to be restored or to browse through already archived emails. With the same powerful Search system as used by the rest of our contentACCESS suite, quickly and efficiently identify already archived mails. Restore or share them with your colleagues, either as an attached file or as a link to the archive. Keep archiving at your fingertips and under full control thanks to mailApp. Search or browse through your archive like never before!
contentACCESS Mail App: an intelligent extension of our contentACCESS platform
TECH-ARROW's contentACCESS is a universal solution for backup and regulatory compliant archiving of your company data – not only e-mails, but also other documents, SharePoint, Microsoft Teams, OneDrive, Office 365, file servers and desktops. Data archived in contentACCESS is accessible to all authorized users via contentACCESS Mail App. contentACCESS Mail App, contentACCESS Mobile, contentACCESS Portal and officeGATE (our Microsoft Outlook integration), are the best tools you can imagine for an effective and productive work balance.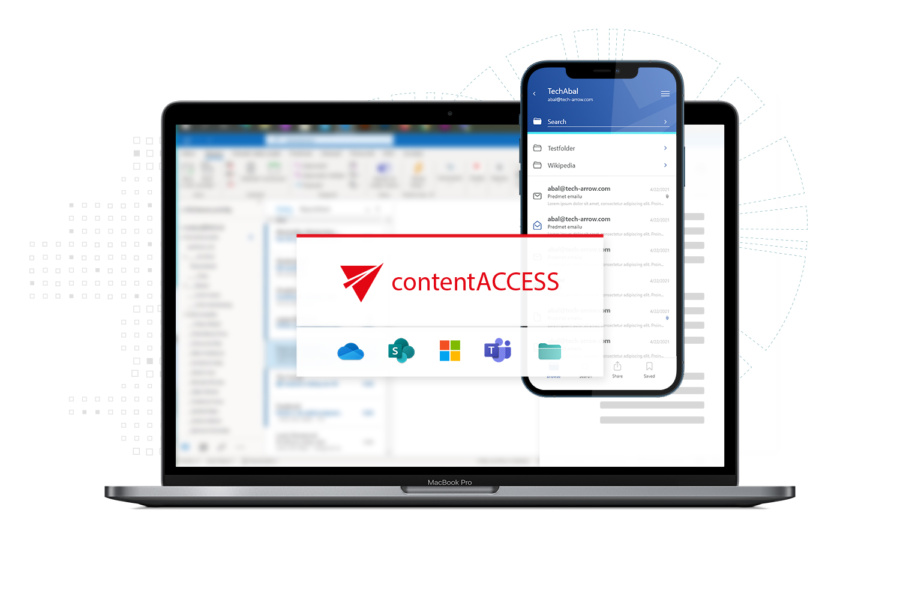 We will help you discover the full potential of contentACCESS for your business. Contact us and we will get right back to you.