contentACCESS: next generation of email archiving
Full control over archived emails
Automatic archiving and user-friendly interface
Easy access to archived data
The best search tools across your archived content
Regulatory compliant and secure storage
Integration with Microsoft 365 applications
17
states where our clients are located
Simply the best email archive solution for every business
Archiving sounds like a synonym for backup, but it offers much more. Easy access without restoration and a full text search for the end user are just two of the many great advantages. Our contentACCESS email archive makes you effective and productive in these fields: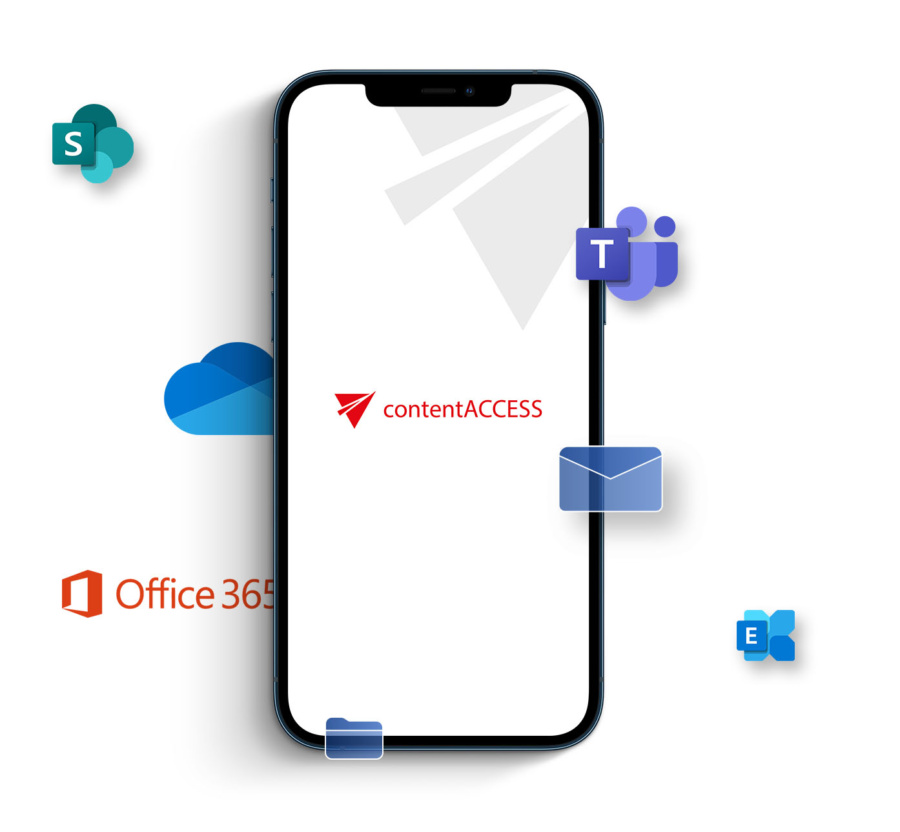 Archiving platform designed for Office 365 and MS Exchange
Our reliable and secure solution, contentACCESS, provides data backup and regulatory compliant archiving. It archives your email mailboxes, documents, SharePoint, MS Teams, OneDrive, Office 365, file servers, and desktops. With contentACCESS archived data is accessible to authorized users directly via Microsoft 365 applications without recovery.
Why is contentACCESS the right choice for your business?
Multi-Platform Support
Supports major server platforms
Including Exchange On-Prem, Exchange Online, SharePoint Online…
… MS Teams, OneDrive, Office 365, Lotus Notes, Gmail and others
Compliance and GDPR conformity
Meets regulatory and legal rules
Complies with your internal guidelines
eDiscovery Scenarios
Secure Data Storage
Protects against ransomware
Protects against internal threads
Protect against external threads
Multiformity
Cloud Archive Model available
On-Prem Archive Model available
Hybrid Archive Model available
Security and Privacy
Secures data at three levels, physical infrastructure…
…data encryption and the application layer
All data encrypted using 256-bit AES encryption
Backup and Recovery Options
Recovery of missing data or whole data
Scheduled backups
Recovery to original or different location
Client ACCESS & Productivity
contentACCESS Portal Client with great visual mapping
contentACCESS Mobile for practical phone data handling
officeGATE as the best productivity tool for MS Outlook
Reliable & fast Search-Results
Access, browse and retrieve archived data in seconds
Efficient full text search capabilities and eDiscovery
Hit highlighting feature included in Client Apps
contentACCESS Central Administration
Easy administration and management
Unified administration of contentACCESS Platform
Multiple-tenancy support
References
"OfficeGate allows us to easily and quickly integrate our document management on Sharepoint Online into Outlook. Our lawyers can now access document libraries to download and upload files with a simple drop and drag and all without leaving Outlook. Before using OfficeGate we evaluated other alternatives, but this is by far the fastest and easiest to use."
Jorge M. Limón Márquez Zurbarán Abogados
"We were archiving emails for more than a decade at Gardiner & Theobald, but the old solution we had was always problematic, so we decided to modernize our archiving strategy. The speed, the data governance, the possibilities to search the archive, the end-user tools – they are just making our life easier. And, our data safer."
Lucian Ionica Kennedy Wilson
"Nothing beats the feeling of safety and productivity when using contentACCESS to archive our Exchange emails. contentACCESS is much more than just a backup of your emails. The archiving fits the workflow of our employees as everything is at their fingertips, in Outlook and they need no training to find what they need. As an administrator, contentACCESS allows me to easily find anything I want, any time I want, in a split second."
Jeff Gorovitz SMP
"Very useful – a very good product. I enjoy it!"
Ján Strelecký BIC Group
We will help you discover the full potential of contentACCESS email archive for your business. Contact us and we will get right back to you.
Q&A
Is it possible to use your archive on-premises or is there also a cloud variant?

You can use our platform in both cases:
o Installation on-premises on your own server, where the data is archived and stored on your storage,
o A form of SaaS - a cloud service that includes maintenance, support, storage and new software versions.


Does the licensing depend on the number of users or on the amount of data?

The licensing is based on two models:
a. For on-premises, licenses apply to the number of users. However, this does not apply to file server archiving, where licensing depends on the amount of data. The one-time fee includes a license with unlimited validity. However, for on-premises models we recommend using the support and maintenance service together with the right to current software version. The fee is set at 20% of the purchase price of the licenses paid annually.
b. For SaaS - Cloud service, the payment is made monthly or annually, while the license is tied to the number of users and the selected package level. The fee covers the entire infrastructure, including storage, support, maintenance, as well as automatic updates for new software versions.


Is there an additional charge for client applications that provide access to archived data?

No. All client applications, including officeGATE Outlook Plugin and Add-In, MS Teams Add-In, contentACCESS Portal and contentACCESS Mobile, are included in the license price.

I have an outdated archiving solution from another provider. Can I transfer my data to your archiving platform? For example, my PST files?

For many years we have been migrating legacy archive solutions to our contentACCESS platform, as well as to other target systems (e.g. Office 365). We also provide support for PST export/import.
We have an efficient and fast solution that allows a reliable migration from multiple sources. If you are interested in the data migration service, please contact our team.


How secure is your archive system against ransomware attacks or data deletion?

The archive system operates in read-only mode. The files in the archive cannot be edited, overwritten, or even deleted until the retention periods expires. When you make changes, a new version of the archived file is automatically created in the archive. The user has access to all versions of the file in the archive.

Is the access to the data available only to the administrator or can it be visible to other users?

Our archiving platform allows all selected users to access archived data through our applications. Users can work efficiently with the real-time data archive, forward old emails, perform full-text searches, view and use archived content. However, they cannot modify or delete the archived content in any way.

We have already a backup solution. What is the main difference and advantage of your archiving solution?

Our archiving solution offers many advantages. In cases of cyber attacks or data loss situations, your data is safely archived in contentACCESS. You will always have your data available in full-value form in contentACCESS archive. You can perform full-text searches for any content across historical data. If data recovery is required, you can restore your emails or files in a split of a second.