Deutsche Sprache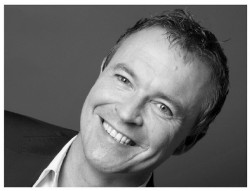 TECH-ARROW opened on July 1, 2014 its first international subsidiary in Nürnberg (Ebermannstädter Strasse 3, Germany).
Let us introduce Jürgen Wüst (juergen.wuest@tech-arrow.com), who is the Managing Director of TECH-ARROW, GmbH.
Jürgen, first of all: Welcome on board!
Thank you!
Can you tell us about your experiences before TECH-ARROW, GmbH briefly?
In the past 15 years I am active in the ECM and consulting area. I have collected insights in producing area, but also as a service provider in Consulting and Development. My activities were mainly in the area of sales, business development and managing director. Besides I was also volunteer for several years as chairman for the VOI /Note: VOI is the trade association for providers and users in the field of Enterprise Information Management/
What were your personal and professional reasons to join TECH-ARROW?
My motivation is the conviction of the products in the respective areas and the motivation to bring my experience and ideas into this dynamic team.
Let us talk a little bit about the facts which led to open this TECH-ARROW's subsidiary. What are the reasons and what is the targeted market?
The German-speaking market is a very important market in the fields of ECM / DMS / Archiving. There is an incredible density of manufacturers in Germany, but they also strongly focus on their core products. The influence of a Microsoft or new marketing channels such as cloud service is getting bigger and more important. Furthermore, we are also in a cut-throat competition. This all leads to the fact that the products and services of TECH-ARROW will be an important part of this market and our intention is to provide high quality products and qualified service to our partners and to end-users as well.
Which are DACH countries and why are these countries so important?
We are speaking about German-speaking countries, mainly Germany (D), Austria (A) and Switzerland (CH), and as already mentioned, the German-speaking countries are very important and contested – and so: simply we cannot missing.
Can you share your concept for the future of TECH-ARROW GmbH? What will be the first steps?
Our goal is to address with our products the special areas such as SharePoint, Migrations, Mail Management, Office365 or Cloud solutions. The reason for this is that these areas are for the manufacturers, system integrators and resellers not optimally occupied or better to say no optimal solutions are provided. However, demand is increasing tremendously – we want for some to lose the weight of the answer when they ask the question "make or buy" and simply absorb TECH-ARROW's products through quality and references into their portfolios.
Is DACH market something special? What are these specifics?
The specifics are the high density and thus the competition from manufacturers and system houses, but also the market of customers – really important and prestigious companies have here their seats. The mentality is not to be underestimated as well, that you would like to buy by your peers, and this also should be "on the spot".
From TECH-ARROW's portfolio what are the best fitted segments for your targeted market? The main focus will be on products such as contentGATE & contentACCESS for their solution in the Mail, ECM and DMS migration and processing but also on the product accessGATE for its highly flexible open SharePoint solution.
My last question would be the standard question for TECH-ARROW's members: What is your favorite product and why?
It is contentGATE with its scalability and very intuitive Admin Console, the reason for this is the large cut- throat competition in our market and contentGATE is exactly the right thing to provide Data migration into the new targeted system according legal compliances.
At the end I would like to wish you a lot of successful deals and many-many satisfied customers.
Thank you for that and I think at TECH ARROW everybody care about that it happens.
(Interview prepared by David Kaiser / July 9th, 2014)