For the list of all release notes click here.
The following list will give a quick overview about the newest improvements that contentACCESS version 5.3 brings to you:
Teams archiving
✓ Recovering teams
Ransomware attacks and disaster recovery scenarios are more and more common nowadays. As a response to the new requirements, we have improved contentACCESS Teams archive in the ways required to give IT administrators a powerful tool to solve such cases. Now, an administrator can recover all members, data and files also under a different name and specify the point in time he needs to recover.
From now on we can also support enhanced use-cases, when the administrator wants to clone and re-use only the folder structure, because contentACCESS is now able to re-create it as a different team.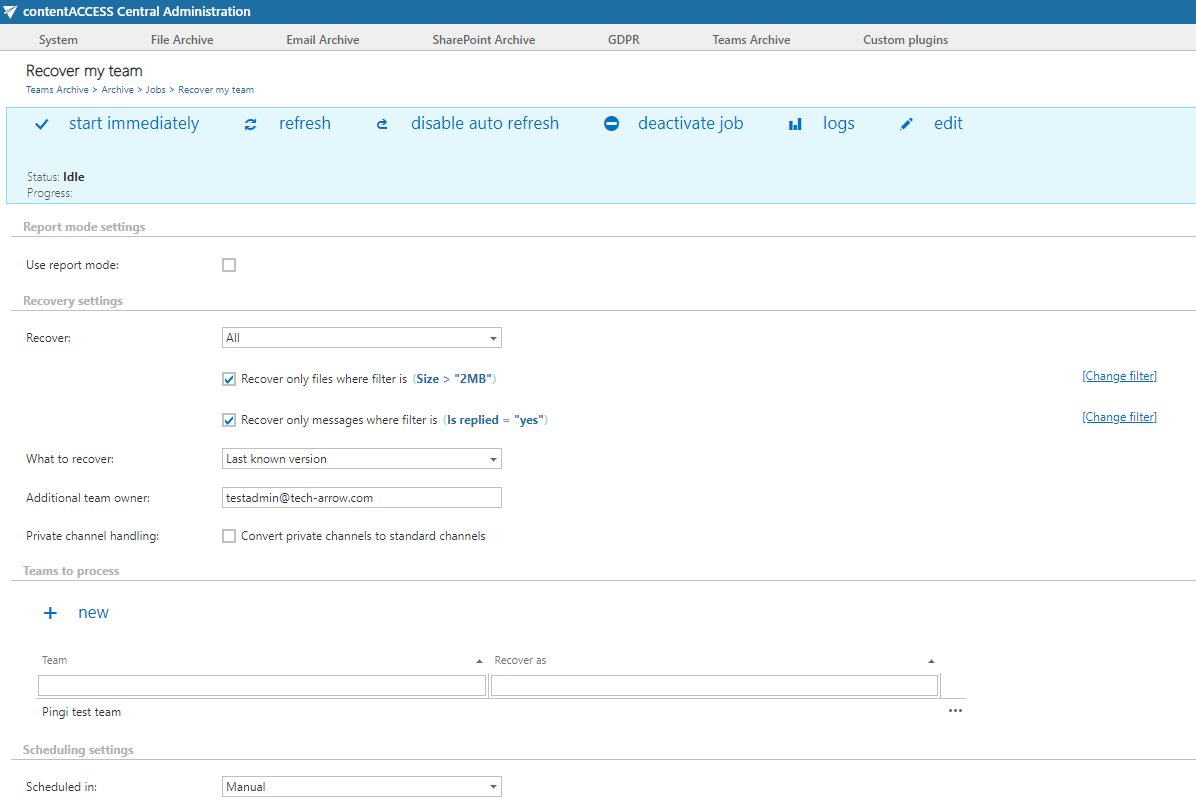 ✓ Archiving of team tags
The contentACCESS Teams archive was extended to include used tags as well. The tags will be re-created and assigned to the same people during the recovery process.
Email archiving

✓ Shortcut deletion flow
The long awaited three-level email processing is here. You can now configure the full email lifecycle in a single email archive job. You can create a job, which will archive all emails immediately, will convert the emails older than 6 months to a shortcut, and will delete shortcuts which are older than a year. All processing levels can have different filters, so you can implement as complicated a process as you need.


✓ Private emails visibility
We have introduced new permissions for email archives, which will allow the administrators to control who can view emails marked as private. The default behavior is the same as earlier, which means that everyone who has access to the mailbox archive can see the private emails. If you want to increase the privacy in your company, then you can change the default settings to allow only the mailbox owners to see the private emails. For users with only delegated access, private emails will not appear.

✓ Separate roles for shared mailboxes
We have split the default roles for delegated access and shared mailboxes. This will give the company more flexibility, as they can specify what to allow users with delegated access or access to a shared mailbox to view. You can now easily configure the system to show private emails in a shared mailbox but hide in delegated mailboxes.

File archiving

✓ File archive multi-level archiving flow
We have taken the email archive processing flow as a base and implemented it for the file archive job as well. This will give the administrator the flexibility to archive files immediately, convert them to shortcuts after 6 months and then delete the old shortcut. All this is achievable in a single file archive job. All processing levels can have different filters, so you can implement as complicated a process as you wish.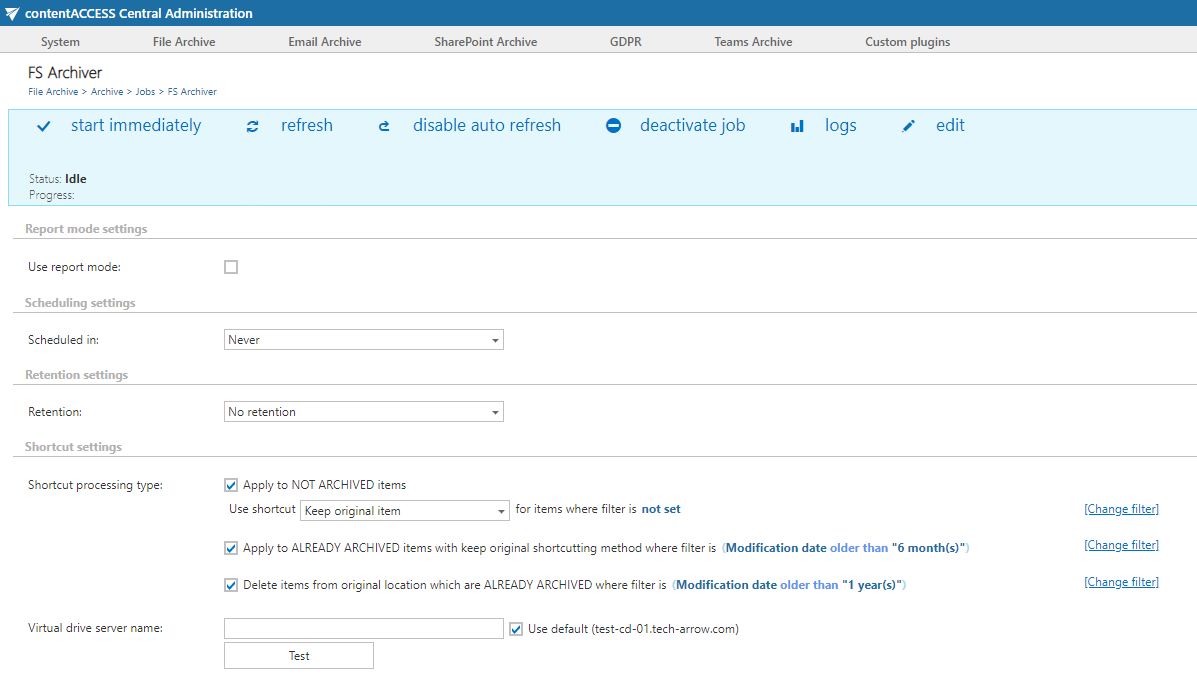 ✓ File archive shortcut deletion flow
We have extended the file archive job by a new flow allowing for deletion of existing shortcuts. This allows the administrator to implement a flow which will remove unused shortcuts from the source system. Despite removing the shortcut, the file will still be available in the archive so you can access or recover it any time.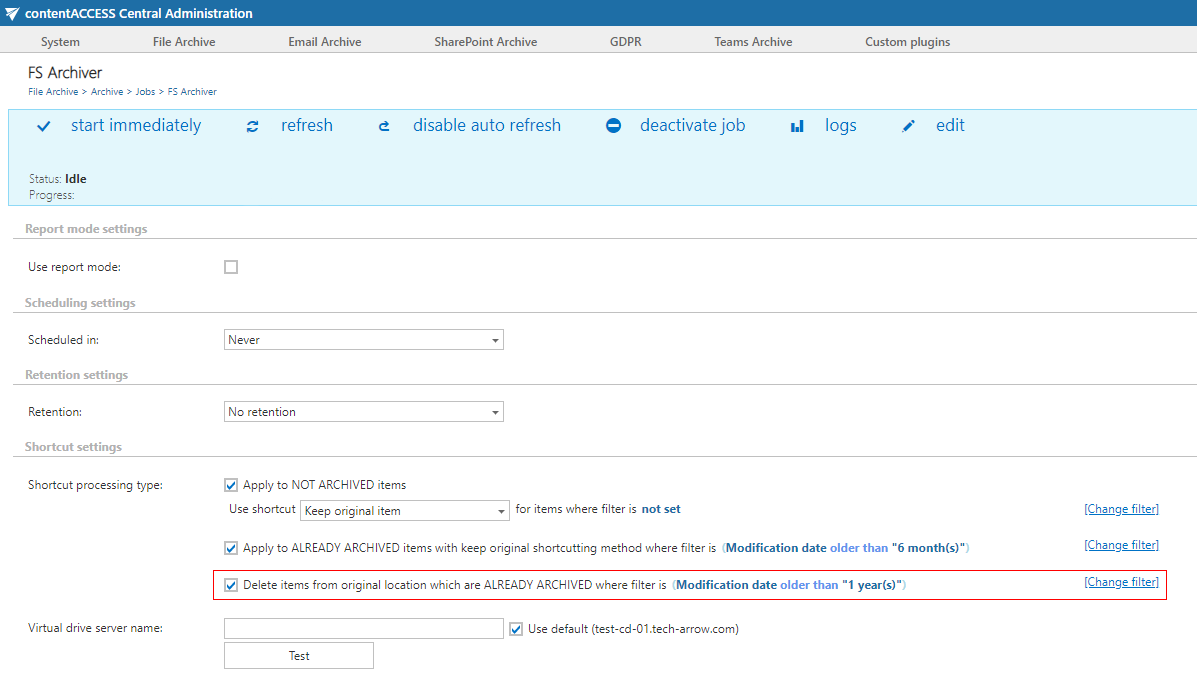 Common

✓ Disk store relocation support
The disk storage now supports two types of path changes. The first option is to open a new volume. In this case, the old files remain in the old location and new files will be archived to a new location. This option is useful if you have multiple smaller drives and would like to segment the storage.
The second option is to relocate your store, which means that both the old files and the new files will be available in a new location. This option is useful if you change from a local disk to a network share or switch the share behind the storage.
Before the real configuration change happens, disk store will validate the new locations to avoid invalid configurations.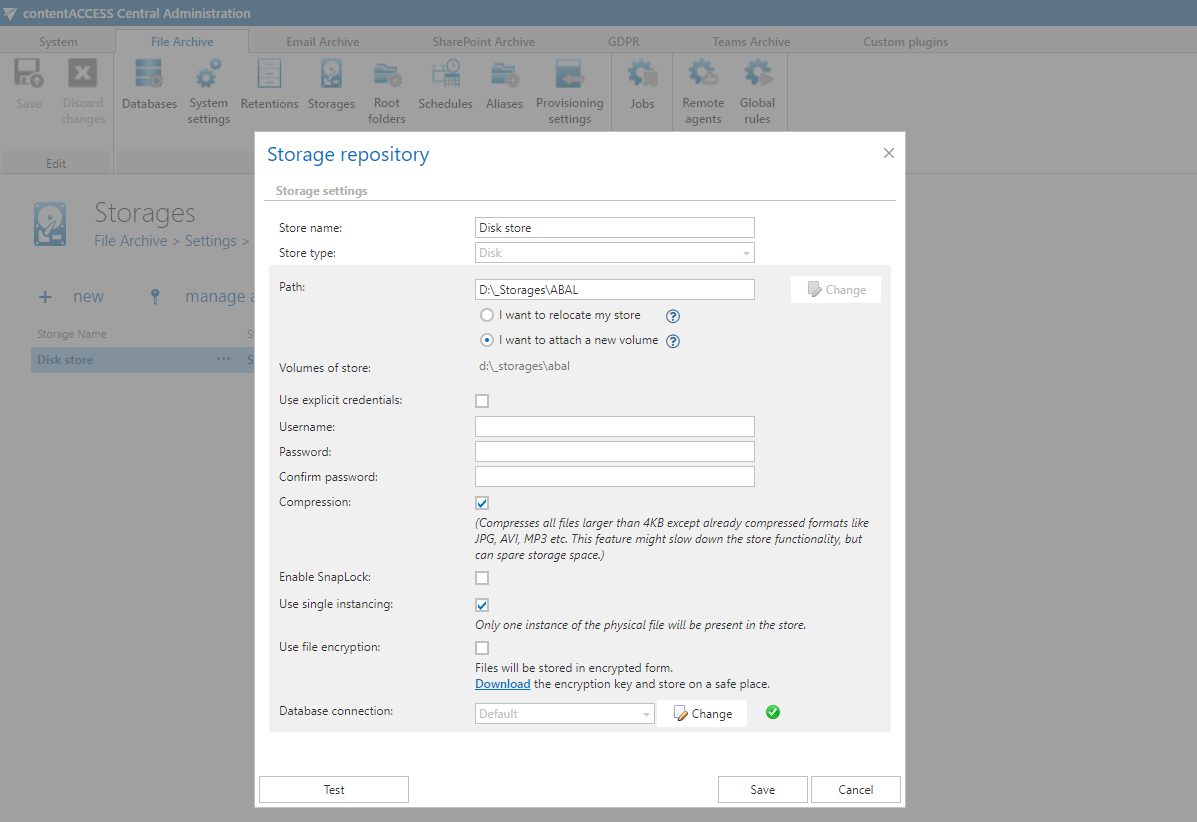 ✓ contentWEB renamed
To improve clarity, we have decided to rename contentWEB to contentACCESS Portal.

✓ Installation package design update
It was a long time ago that the contentACCESS installation package was last updated. Now the time has come again! You can now enjoy the brand new and fresh look and feel of the installation package. We have applied the new company color scheme, updated all pages, and fixed some small design issues.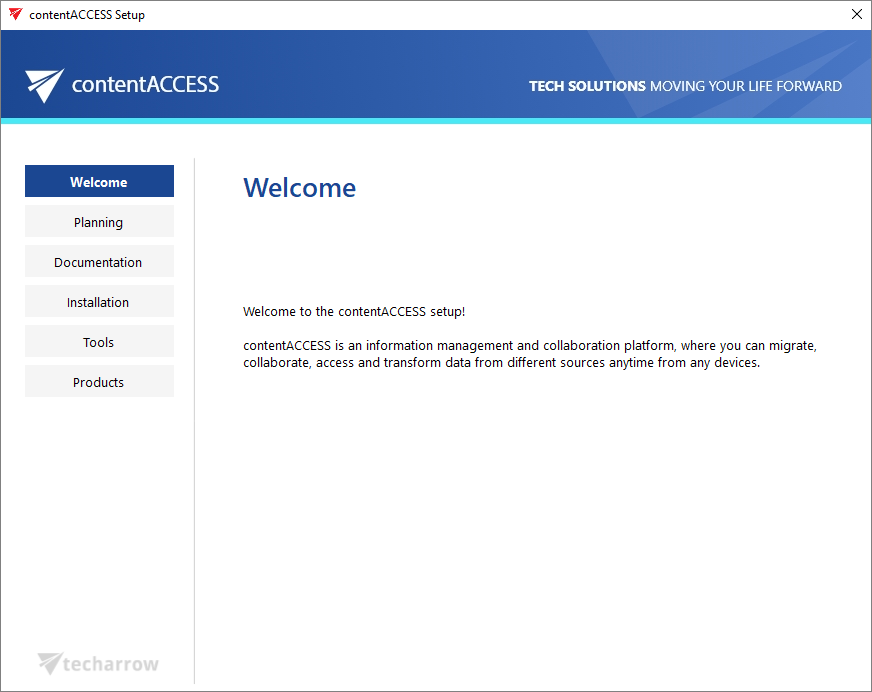 ✓ Java version updated
We have updated JAVA to the latest available free version, which is installed by the search component. The JAVA detection was also fixed to avoid overwriting a newer installed version.

✓ System user password
We have unfortunately come to realize that some of our customers did not change the default password for the system user. This opens a huge security leak inside the system. To improve security, we will not use a default password for the system user anymore. Instead, the administrator must choose a unique password during installation. The installer will also allow updating the system user's password during the update. Also, if someone is updating from an earlier version and is still using the default system user password, the setup will not allow them to continue until this password is changed.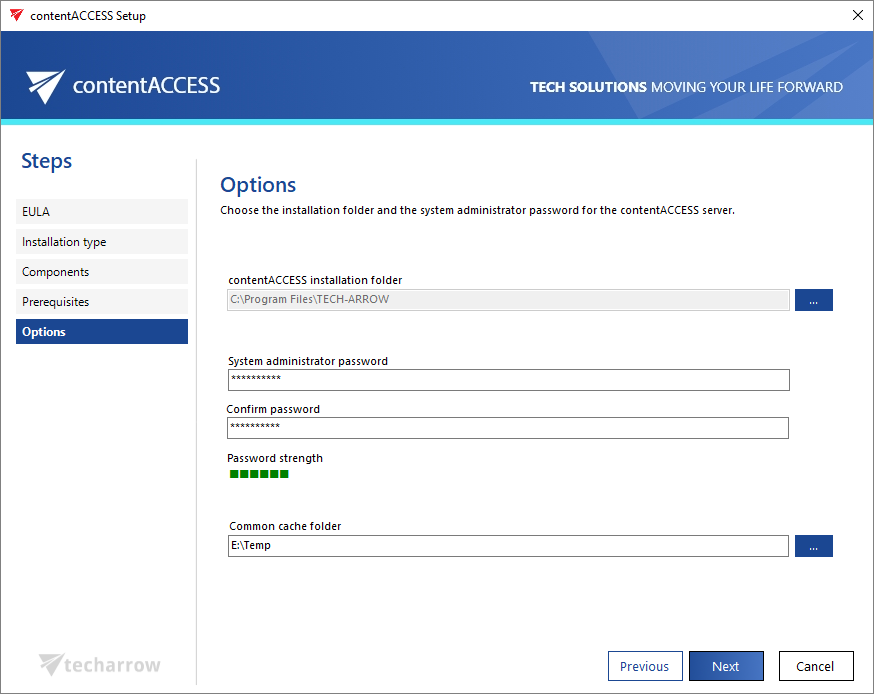 ✓ Common cache folder
Some system components use a cache folder, which is needed for some operations. Until now, some of these cache folders were hardcoded and you were not able to change them. For some systems this caused issues as the IIS user did not have write access to these folders. We've made a change, and now you can configure a common cache folder. The installation package will also make sure that the application pool user will have write access to this folder.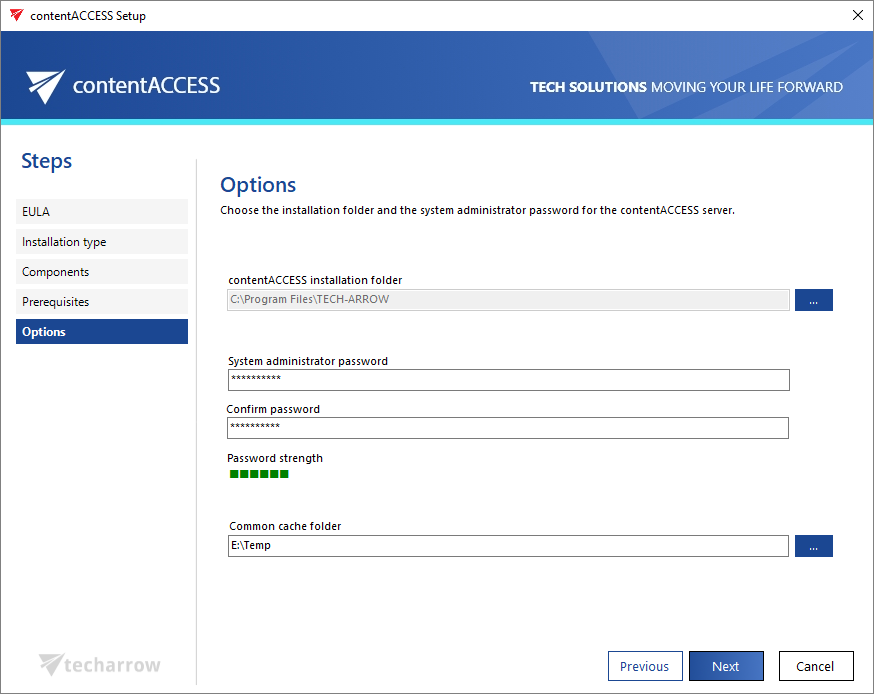 ✓ Teams search scope added to contentACCESS Teams app
Until now, if you wanted to search in MS Teams archive from contentACCESS Teams app, you had to narrow down the search results by specifying "source:(teams)" in your search query. In this version we have extended the search scopes by "Teams" to allow easier searching through your MS Teams archive.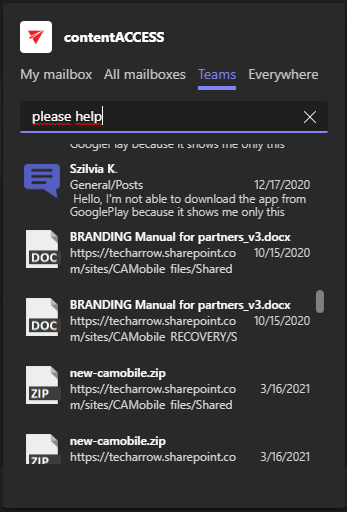 ✓ Improved security
Improvements were made to bring contentACCESS up to a higher level of security. As a part of these changes, we have replaced the encrypted contentACCESS passwords with a SHA256 hash. The conversion will be done automatically during the update.

✓ Role and permission changes
Based on your feedback, we made some minor changes to permissions and roles. We have introduced new roles called "Junior configuration administrator" and "Junior tenant configuration administrator". These roles will allow the user to manage the system but will not allow them to grant access to mailboxes. We have also extended the "Configuration administrator" and "Tenant configuration administrator" roles by allowing to grant access to mailboxes. Previously this was allowed for "System administrators" and "Tenant administrators" only. Every permission related modification is stored in the system configuration auditing.

✓ Performance and stability fixes
Improvements were made to make the system faster and more stable, so your contentACCESS experience could be better than it has ever been before.
Update from older versions
✓ Update path: Update is supported from contentACCESS version 3.1 and later. Older versions must be first updated to contentACCESS 3.1 and then from version 3.1 to the latest version.
If the update is done from an earlier version than 3.3, then some new features must be configured manually after the update.
One of these features is the Task runner, which requires a resource storage, where the export files will be stored. This storage must be configured in System -> System -> Resource storage settings. This store must be accessible by all contentACCESS nodes inside a cluster, so it is highly recommended to use a network share.
✓ Application pool identities changed: To increase the security, all application pools of contentACCESS are using the isolated IIS App Pool Identity. This requires a switch to the server-side rendering in contentACCESS Portal for email archive.
✓ .NET Framework support: The minimum required .NET version was increased from 4.5.2 to 4.8, for all applications.
✓ Mail app activation: As a result of redesigning the Mail app activation method in contentACCESS Email Archive, new permissions "Org Marketplace Apps" and "User Options" are needed for the super user in order to work.
✓ Outlook forms: If the update has been done from an earlier version than 3.4, because of some internal changes in the email archive shortcut format, the Outlook forms must be updated to the latest version to maintain the correct functionality. For contentACCESS 3.8, the Outlook forms must be also republished due to the authentication changes.
✓ Remote file archiving: While updating from contentACCESS 3.6, existing remote agent definitions will not work, since some of the database structures have been moved from file system archive database to the tenant database.
✓ SQL server support: The minimum required SQL version was increased from MS SQL 2008 to MS SQL 2012.
✓ Redesigned filtering: The old filtering was converted to the new format. Therefore, we recommend checking all job filtering settings after the update from 3.7 or earlier.
Documentation
Please check the updated documentation and manuals.

contentACCESS Manual

contentACCESS Portal Manual

officeGATE manual

TECH-ARROW's WinShortcutter user manual